http://woosterglass.com/speciality-products/ This was originally posted on Stay Bookish.
buy Clomiphene in mexico I've never believed more in the saying "If you set your mind to it, you'll achieve it" than I do this very day. At the start of April, I decided to join Camp NaNoWriMo in the hopes of finally finishing a manuscript, sick of having never completed one despite countless attempts at writing novels.
I was determined to write my heart out this month, even if it meant countless nights without sleep and taking a break from blogging and reading.
Early this morning, bleary-eyed from typing all the words for the last few chapters of my WIP, What Happens Now, I'd checked my word count. I was at 49, 999. This is the part where I freak out, type one more word, then scream a loud HALLELUJAH.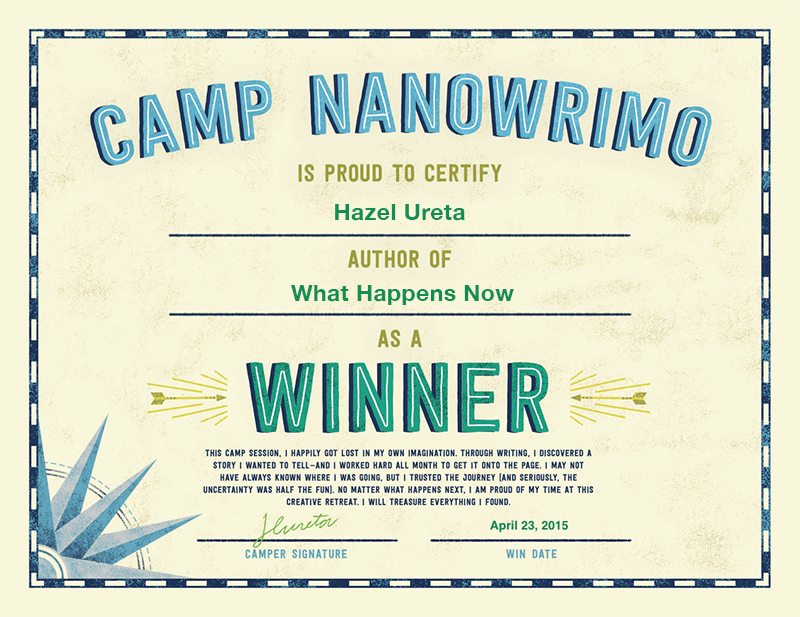 I felt so pumped because I did it. I DID IT. I conquered Camp NaNoWriMo and won! Even though I've been ahead of my writing for several days and I felt really proud then, actually winning had me over the moon. To think that I've always believed that I was such a pathetically slow writer, I can't help but beam that I finished writing my novel in just 3 weeks, a week earlier than intended. It's totally crazy.
Was there sorcery involved? Absolutely, yeah. And today, I'm going to tell you the magic ingredients.
A Plan
I didn't know about plotters and pantsers until I did NaNoWriMo last November. Then, I'd totally pantsed it and not surprisingly, I'd failed to finish. This year though, for Camp, I had a plan. And it made all the difference. Did I turn myself in to a super plotter or something over the months? Nope. There was absolutely no comprehensive chapter plot summary or intensive character developing involved before April had started. That said, I did take a day or so before Camp to think of a basic plan: who my characters were, what the story was about, a vague plot outline and my main theme.
Motivation
Lots of people who join NaNoWriMo probably start with lots of motivation- may it be because of their excitement for their story idea or just excitement to take part in this novel writing challenge. The thing is, you have to hold on to that motivation tight throughout the month. Don't ever let go. Because if you do, and you let yourself get behind for even just one day, there's a great tendency you'll lose that writing spark. Staying motivated is crucial!
Discipline
I am a huge procrastinator when it comes to many things but doing Camp this month had kicked me into being more disciplined. Everyday I had to write. I didn't let one day go without opening my writing program and typing words. Without noticing, I'd started to keep a consistent schedule: On weekdays when I had school, I stayed in the library during breaks and wrote. When I got home and until really late into the night, I wrote some more. On weekends, I ditched sleeping in to get more writing done. All day, I'd write if it was possible. It slowly became a routine and it contributed so much to helping me reach my goal.
Inspiration
It's hard to keep on writing if you're not in the mood. If you're not inspired. My inspiration board and my writing playlist spurred me to write my novel. They were a driving force that helped me carry on writing and reminded me each time why I was doing this- because I loved my story. Whenever I started to feel uninspired or felt like words were escaping me, I took short breaks and just listened to the songs that put me in the temper to write and I pinned stuff on my board that kept ideas going.
Support
I used to think that writing is a very solitary thing, but it isn't. Like in life, you need people. Having someone support you, cheer for you, tell you you can do it, commend you for your hard work and encourage you to write on is what'll help you get to the finish line.
With this, I want to thank you (yes, you) for standing by me as I wrote my novel. Your heartening encouragements on Twitter, and especially your excitement about What Happens Now, are what pushed me to succeed in this endeavour. I'll definitely work hard on editing and revisions so that you, dear reader, may one day get to peruse my story.